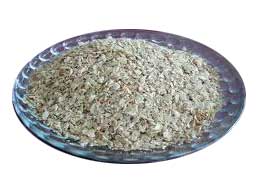 We are engaged in manufacturing, exporting and supplying the premium range of Groundnut Meal that is an excellent protein source for the vegetarians. Our livestock feed is in great demand in various countries owing to their premium quality.

Features :

Highly nutritious
Assured quality
Available in large quantities
Timely shipment
Economic pricing
Specifications :
Protein content : 41% to 50%
Aflatoxin content : 0.5% to 0.2% or 0.05 PPM
Usage level : Up to 25%.

Mineralization & Slow Release of N :

The oil cakes are slow in mineralising and hence compliment quicker acting inorganic fertilisers whenever they are applied together. Gaseous N losses from oil cakes applied to the plough layer are much smaller than losses from NO3 fertilisers. Some of these oil cakes retard nitrification of the soil / urea and thereby increase N uptake by the plants. P uptake from calcium phytate ex oilcakes is higher than that from the superphosphate in maize plants.



Chemical Composition of Extractions [Cake]
Extractions
N %
P2O5 %
K20 %
S %
Rape-mustard
4.8
2.0
1.3
-
Neem
5.2
5.6
1.1
1.5
1.4
Castor
4.0
4.4
1.9
1.4
-
Mahua
2.5
0.8
1.9
-
Karanja
4.0
0.9
1.3
-
Linseed
4.7
11.7
1.3
-
Technical Specifications :
Meals / Extractions
Normal Specifications
Nutrients
Metabolisable Energy
KCal / Kg
Oil & Albu- min (Pro-fat)%Min
Sand / Silica % Max
Fibre % Max
Castor % Max
Mois- ture % Max
Dry
Matter %
Protein
TotalDigestible Nutrient TDN %
Essential Amino Acids
Ca %
P %
Cattle
Poultry
TotalCrude
Protein CP %
Digestible Crude Protein DCP %


Lys %
Met %
Cyst %
Thr %
Tryp %
De-oiled Rice Bran
16
3
12
Nil
12
91
15
9.9
60
0.05
0.24
0.13
0.48
0.14
0.1
1.7
2206
1890
Rapeseed *
38
2.5
12
Nil
10
91
37
32
64
1.76
0.7
0.63
1.5
0.43
0.7
1
2300
1760
Sunflower seed
30
2.5
30
Nil
10
93
30
23
71
1.1
0.65
0.5
1
0.38
0.4
1
2000
1600
Sesame Seed
45/47
2.5
10
Nil
10
94
46
38
70
1.2
1.25
0.74
1.57
0.63
2
1.3
2600
2250
Sal seed
09/10/10
2.5
5
Nil
10
90
9
-
41
0.42
0.11
0.1
0.32
-
0.1
0.2
1483
1808
Mango Kernel
6
2.5
8
Nil
10
90
6
5
70
0.4
0.16
0.11
0.43
-
0.2
0.6
2500
1800
Safflower seed
20/21
2.5
35-40
Nil
10
90
20
17
52
0.56
0.32
0.34
0.62
0.28
0.5
0.8
1800
1498
Copar
22/23
2.5
15
Nil
10
93
22
18
77
0.59
0.03
0.33
0.65
0.15
0.2
0.6
2650
1485
Soybean **
48/49
2
6
Nil
11
89
48
47
79
2.9
0.7
0.8
1.8
0.62
0.2
0.7
2784
2400
Groundnut ***
50
45
2.5
2.5
12
12
Nil
10
10
92
92
47
43
39
36
68
65
1.7
1.5
0.5
0.45
0.62
0.56
1.28
1.16
0.5
0.45
0.2
0.2
0.6
0.6
2500
2700
2420
2400
Cotton Seed ****(Toasted)
40
2.5
12/14/10
Nil
10
91
39
32
64
1.5
0.6
0.6
1.28
0.49
0.2
1
2314
2000

* Allylisothiocyanate max. 1.0. Erucic acid max. 0.25 %
** Urease activity max. 0.30 %
*** Aflatoxin content less than 0.5, 0.2 or 0.05 ppm quality available.
**** Free gossypol - very low.

Lys = Lysine, Met = Methionine, Cyst = Cystine, Thr = Threonine, Tryp = Trypsin


De-Oiled Meals
Plants
For
Mustard / Rape Seed Cake
Sugar Cane
Tea
Berseem
Jute
Leafy Vegetables
Papaya
Orchids
Plankton
Tobacco Lac
Increasing Productivity
Increasing Growth of New Shoots
Increasing Fodder Production Nematode
Control Natural Fertilizer
Increasing Yield
Improves Growth
Increasing Production inFish Ponds
Reducing Fertilizer Costs
Increasing Yield